Thank you to everyone who offered to take over Book Beginnings. I'm sorting through you all and I'll try to make a decision this weekend.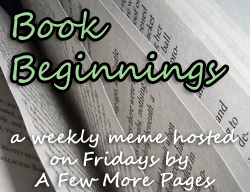 How to participate:
Share the first line (or two) of the book you are currently reading on your blog or in the comments. Include the title and the author so we know what you're reading. Then, if you would like, let us know what your first impressions were based on that first line, and let us know if you liked or did not like the sentence. The link-up will be at
A Few More Pages
every Friday and will be open for the entire week.
Thanks to
Becky at Page Turners
for starting this meme and to
Rose City Reader
for inspiring it!
Influenced by my love for the BBC series
Sherlock
(airs on PBS in the US)
,
I just started reading
A Study in Scarlet by Sir Arthur Conan Doyle
. Here are the first lines:
In the year 1878 I took my degree of Doctor of Medicine of the University of London, and proceeded to Netley to go through the course prescribed for surgeons in the army. Having completed my studies there, I was duly attached to the Fifth Northumberland Fusiliers as assistant surgeon. The regiment was stationed in India at the time, and before I could join it the second Afghan war had broken out.
I have a tendency to be nervous about classics sometimes--worried that they will be difficult to read, dry, and not as good as I hope they will be. So far, that has not been the case with this one. I've been pleasantly surprised that this has been a pleasure to read, and I'm disappointed in myself that I put it off for so long out of fear! I'm enjoying this introduction to Watson, and I'm already seeing wonderful connections between this story and its interpretation into the modern
Sherlock
series.
So how does your current read begin, and what are your thoughts so far? Please leave the link to your specific post, not just to the front page of your blog.
---
---