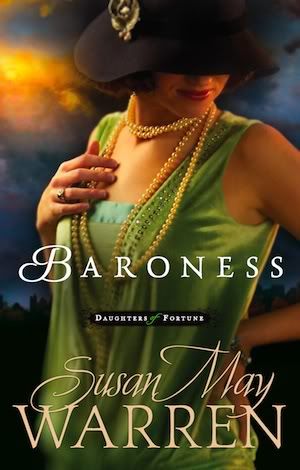 Baroness by Susan May Warren
(Daughters of Fortune #2)
Genre:
Christian Historical Fiction
Pages:
320
Publication Date:
March 2012
Publisher:
Summerside Press
Source:
I received a free review copy to participate in this
LitFuse Blog Tour
.
Rating:
4 of 5 stars
Book Description
(from the
author's website
)
:
Lilly and Rosie, daughters of an empire coming of age in the roaring twenties, can have anything they want…except freedom. Expected to marry well and to take the reins of the empire, they have their lives planned out for them. But, Lilly, Esme's daughter longs to return home to Montana, to adventure outside the confines of New York City. And Jinx's daughter Rosie dreams of the bright lights of the newly emerging silver screen. But following their dreams – from avant garde France, to Broadway, to the skies in the world of barnstormers and wing-walkers will take all their courage. And if they find love, will they choose freedom or happily ever after?
❦❦❦❦❦❦❦❦
Baroness
is the second book in Susan May Warren's Daughters of Fortune series. The first book followed the loves and losses of sisters Esme and Jinx (
click here for my review
). This book similarly follows the coming of age of the sisters' daughters--Lilly and Rosie. From the beginning, these cousins seem to have very little in common beyond family ties, with very different dreams and desires for their lives. But the paths they take don't follow the plans that anyone, including themselves, predicted.
I really enjoyed the stories of the two main characters. I wasn't sure what to expect and I was hoping their stories would be unique and different from what their mothers had experienced. Warren has done a wonderful job of creating worlds for these women that are both interesting and believable. Lilly falls in love with flying (and a pilot), becoming a wing-walker and eventually learning to fly airplanes herself. Rosie's dreams of becoming a star of the stage and screen get derailed when she gets caught up in a relationship with a mobster. Her escape comes through the love of a professional baseball player, but the danger of her mobster ex-boyfriend lurks around every corner and leads to a frightening climax.
The first few chapters when the girls were living in Paris moved a bit slowly for me, but events picked up quickly enough that I soon became engaged and began to devour the pages. Life in the "Roaring Twenties" provides for wonderfully interesting backdrops and character development. These girls had opportunities open to them that their mothers couldn't have dreamed of at their age (like flying airplanes!). The historical detail throughout the book added a unique and distinct flavor to the girls' stories that I quite appreciated.
I definitely recommend this book to historical fiction fans. It works well within the series, but it can also be read alone without the reader becoming too lost in references to the previous book. I'm quite looking forward to seeing where the next book in the series takes us.


Related Linkage: