This policy is valid from 20 September 2009. Updated on 24 December 2011.
This blog is a personal blog written and edited by me. I consider this blog to be a hobby.
Links to the following sites on this blog are
Affiliate links:
IndieBound.com
BookDepository.com
The compensation received from these affiliate programs will never influence the content, topics or posts made in this blog. Purchases made at these sites through said links will help support this site. No purchase is necessary.
I may occasionally accept free promotional or advance reader copies of books, but all reviews will be my honest opinion and not influenced by the source of the book. Any book being reviewed that has been received for free from an author, publicist, or publisher
will be disclosed on the review
. Many of my books have been self-purchased or acquired through a used book-swapping site. I do not sell books or ARCs that I have received for review--if I do not keep them on my personal shelf, I will swap them, give them away, or donate them to my local library.
I am not monetarily compensated to provide opinion on products, services, websites and various other topics. The views and opinions expressed on this blog are purely mine. If I claim or appear to be an expert on a certain topic or product or service area, I will only endorse products or services that I believe, based on my expertise and personal opinion, are worthy of such endorsement. Any product claim, statistic, quote or other representation about a product or service should be verified with the manufacturer or provider.
This blog does not contain any content which might present a conflict of interest.
I participate in the following book blogger programs and virtual book tours. Participation is voluntary and unpaid. I usually receive a free physical copy of the book in exchange for an honest review. E-galleys received for review via NetGalley generally expire after 60 days.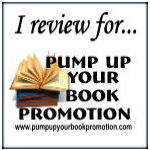 This disclosure policy is provided in accordance with the
Federal Trade Commission's 16 CFR, Part 255: "Guides Concerning the Use of Endorsements and Testimonials in Advertising."
I personalized this disclosure policy with the assistance of a generic one from
http://www.disclosurepolicy.org