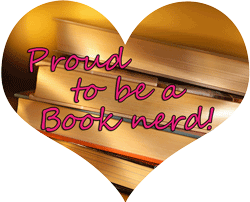 Hi! My name is Katy and I live in California. I am an avid reader, which sometimes borders on book obsession. So, since I have few people in my life who I can talk to about books, I decided to deal with my borderline obsessive thoughts about books and reading by blogging about it. I'm planning to review books, talk about books and authors, and hopefully feature some authors here too. My kids (ages 5 and 6 1/2) and I read together a lot, so I may feature some children's books on occasion as well.
I am a history teacher too--I am an adjunct (part-time) US History instructor at a local college. My passion for history is reflected in many of my reading choices.
I've been interviewed in a few different places, so you can learn even more about me there:
What kinds of books do I read?
I like to read books from many different genres. Historical fiction, fantasy, Christian fiction, mysteries, classics, young adult, science fiction, a little bit of nonfiction (mostly history books), and more (I'm pretty open when it comes to genre, as long as it grabs my attention). I go through spurts of interest--sometimes I get sucked into a good series or a genre that I just can't put down, other times I jump around from series to series and genre to genre. I'll probably also feature some books that I have enjoyed reading with my kids (ages 4 and 6)--I'm working on giving them a book obsession too. ;-)
Here's my review policy:
I am not currently accepting books for review on this blog.

A Few More Pages is my personal book blog and since I like to read just about anything, that's what I review. That said, I tend to lean toward historical fiction, mystery, and Christian fiction. I'm not a big reader of contemporary romance or any romance with explicit love scenes.
I generally post my reviews here on my blog and on Goodreads.
I consider myself an honest reviewer and it is my goal to give a fair but truthful review of the books I've read. My reviews are based on my personal opinion. I don't consider myself to be a professional book reviewer and am not financially compensated for any reviews posted here. I am an affiliate with a couple of different online bookstores, and you can find more details about that in my disclosure policy.